Learn how to trade the forex market!
Market. Mindset. Mastery.
A unique and systemized approach to trading forex. Learn about the markets, develop your mindset, and achieve mastery within the markets to fulfill your dreams.
This program is designed for people who want to take themselves to the next level and become a consistently successful trader while achieving inner peace.
You watch the step by step video course, use the trading dashboard and tools to implement our signature method, and see the change take place.
Get access to the full video library covering Technical Analysis, Price Action Trading, Elliott Wave, Reversal and Continuation pattern, Support and Resistance & so much more!
Combine the powerful tools in our signature method to be one step ahead. Successfully trade with confidence and emotional balance to achieve your own financial freedom. 
Condition yourself for the necessary traders' mindset. Learn to trade in possibilities and probabilities. Get behind sabotaging yourself and master the psychological aspect of trading.
Learn to read the price action provided by the charts and not rely on lagging indicators. Execute and manage your trades on the rawest information the market provides.
Identify market phases and learn to anticipate the impulsive moves. The Powerful Elliott Wave Theory correctly applied will transform your trading.
Use our Trading Dashboard and Performance Tracker Tools to systemize and accelerate your trading. Evolve in your processes and see the transformation take place.
As a Financial Freedom Trading Member, you'll get access to the full library of videos, strategies and tools that helped people like you transform their trading.
You will learn about:​
"Working through the video course and applying the strategies helped me tremendously. I have now a clear plan to act in the market and became a lot more patient in the process. The support in the community is great and the provided tools help me every day."
"Financial Freedom Trading really helped me getting consistent. I had some experience before but struggled from month to month. Now I have clear processes, get better results, and have less stress. Joining FFT was the best decision."
"This course was the one is was searching for. I previously tried signal services did not get the results. I didn't want to rely on somebody else anymore, so I searched for trading education. I landed with Financial Freedom Trading and couldn't be happier."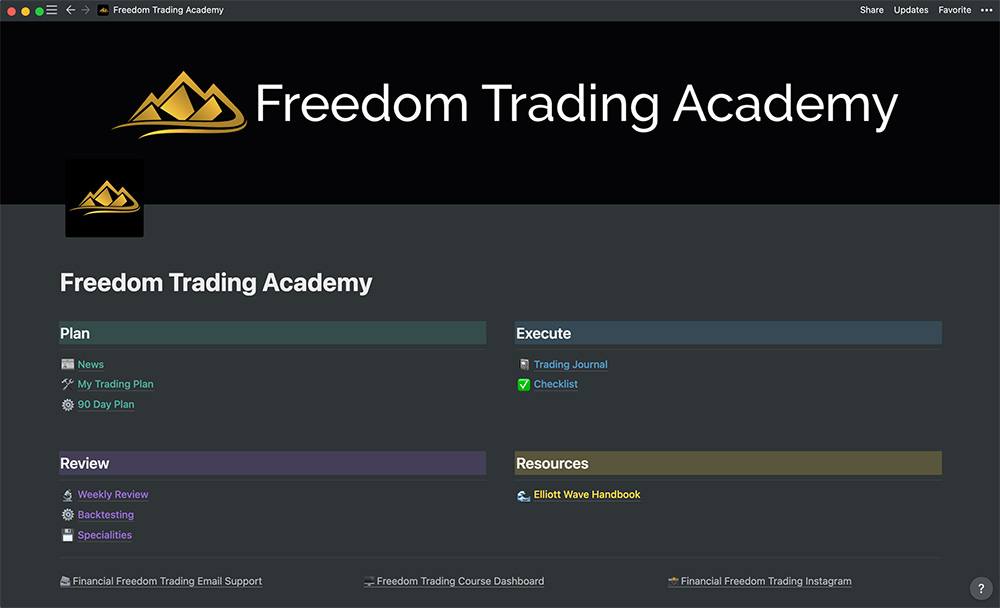 Get Access to the Freedom Trading Academy, your Dashboard for planning, managing, and reviewing your trades.
Work through the checklist before opening a position and journal your trades with the predesigned template. Review your week's performance and capture your state of mind and lessons learned.
Tracking your performance is elemental in trading. Only what is measured can be improved. Use the performance tracker to record your trades, get detailed information about your percentage increase or simply have a look at your average winning position and other metrics.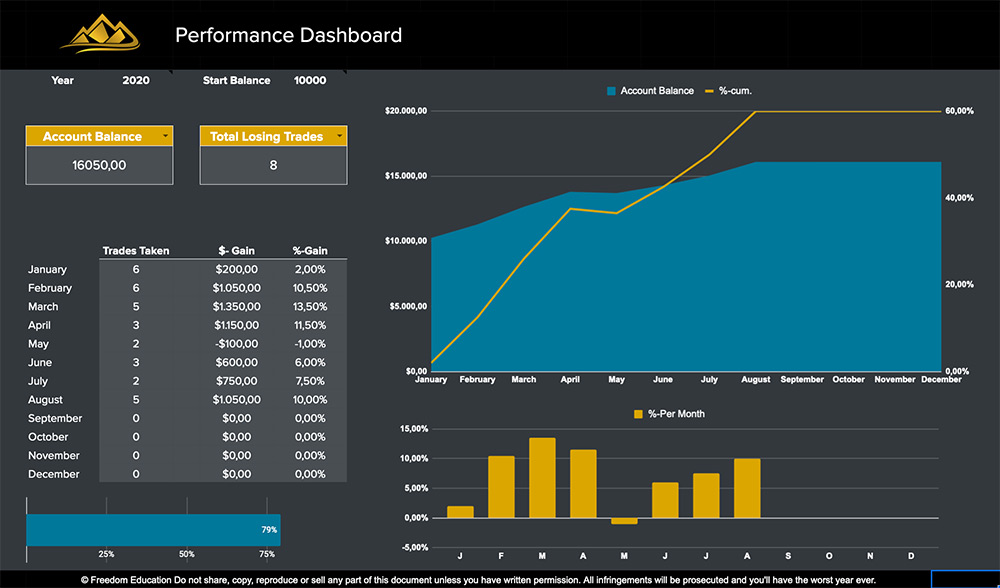 Combining these tools and implement the processes will greatly improve your performance.
Build upon your learnings week by week and see your trading and life change.
Freedom Trading Course: it not only teaches you how to be a successful technical trader but implement processes, develop your mindset, and achieve mastery.
Learn the complete methodology suitable for all levels. From technical analysis, Price Action Trading, Multi-timeframe analysis, and Elliott Wave Theory to applicable strategies for various financial markets. Use multiple management techniques to systematically move through the markets.
Get to know yourself as a trader. Analyze your past performance, expand your mind and learn about the psychological aspect of trading. Reflect on your experience and implement the learnings. Developing a trader's mindset is key in successfully trading the markets.
Focus on consistency and crafting your skill. Define your trading style and experience peak performance.
Achieving mastery through acting on your trading plan while having confidence and peace of mind. Fulfill your potential step-by-step and create your life.
Freedom Trading Course
Step-by-Step Video Lessons
Price Action and Elliott Waves

Trading Dashboard and Tools